SVGmaker Standard
Personal open standards web publishing from Office and Windows programs.
Integrated with Office
Works with Office versions from '97 to 2010.
Click to publish from Word, Excel, and PowerPoint.
Hyperlinks
PowerPoint animations
Easy click publishing
For all the other Windows programs that aren't Office:
File > Print
Preview
Crop if you want by dragging a rectangle
Save As
Outputs open standards
Works with modern browsers
Output viewable with FireFox, Chrome, Safari, Opera and IE9 on Windows PCs, Linux PCs, Macs, iPhones, iPads, Symbian and all other devices with open web standards capabilities.
Print SVG files to any Windows printer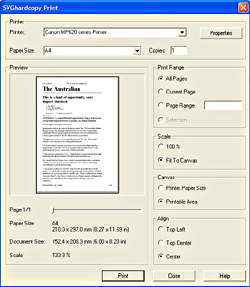 SVGhardcopy print program included.
Scale the image
Crop the area to print
Align the image on the sheet
Print Preview
Select page range
Proven technology
SVGmaker has been transcoding millions of documents a month for online, government, military, Fortune 500 and other organizations worldwide since 2005.
Download
SVGmaker Standard is fully functional in evaluation mode. An advertizing message is overprinted on each page in evaluation mode. Buy SVGmaker license/s to eliminate the advertizing message.
Buy Licenses
From $US 39.00
Buy SVGmaker Standard licenses online from ShareIt.